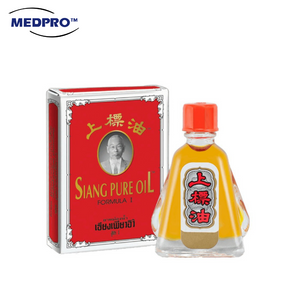 (12pcs) Siang Pure Menthol Peppermint Oil 3cc/7cc Red/White
Siang Pure Menthol Peppermint Oil  provides quick and effective relief to pain and discomfort from muscle aches, joint pain and itchiness from insect bites. Get soothing relief from dizziness, headache, motion sickness and stuffy nose. Inhale for relief of dizziness and faint. Rub over for relief of flatulency, cramp, sprains, muscle pain and insect bites.
Precautions: Do not take orally. Not for children under 3 years. Avoid contact with eyes. Do not use on wounds and on damaged skin. Consult a doctor if irritation occurs. 

Ingredients: Menthol, Peppermint Oil, Camphor, Cinnamon Oil & Clove Oil.
---
We Also Recommend