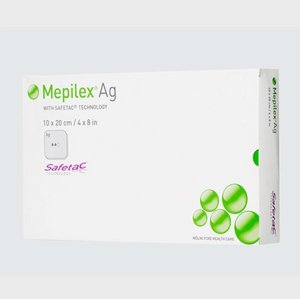 Mepilex Ag Antimicrobial Soft Silicone Foam Dressing (1pc or 1 box) 12.5cm x 12.5cm/ 17.5cm x 17.5cm
The absorbent antimicrobial foam dressing with Safetac® technology.
Mepilex Ag is a foam dressing for medium exudings chronic or acute wounds like venous leg ulcers or burns, where an antimicrobial action is indicated.  According to a recent international experts consensus, antimicrobial action is indicated to help reduce bioburden in infected wounds and to act as an antimicrobial barrier in wounds at high risk of infection or re-infection.
Infected wounds are painful wounds that need the best treatment. Mepilex Ag is a dressing with Safetac technology and is therefore proven to minimize pain and skin damage at dressing changes. Mepilex Ag is clinically proven to heal burns faster and with less pain and cost compared to silver sulfadiazine.
Minimizes pain at dressing changes
Rapid and sustained antimicrobial activity
Gentle adherence, conformable and soft
Does not slip under dressing retention and can be cut to size
---
We Also Recommend