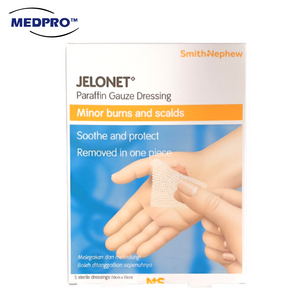 S&N Jelonet Paraffin Gauze Dressing 10cm x 10cm (5pcs/box)
Product Description
Soothe and protect the wound, while helping to prevent an absorbent pad from sticking to the wound.
Ingredient / Content
Paraffin Gauze Dressing
How To Use
Wash hands before and after treating the wound. Gently clean and dry the wound and surrounding skin. Remove dressing from pouch. Remove and dispose of both backing papers from the dressing, taking care to handle the dressing by the edges only. Gently place the dressing over the wound. Cover the dressings with an absorbent pad. Secure the dressings with a bandage or tape.
---
We Also Recommend