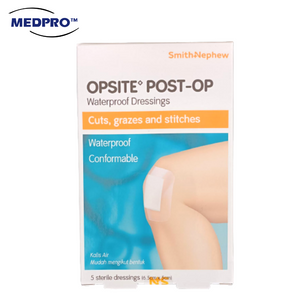 S&N Opsite Post-Op Waterproof Dressings 6.5cmx5cm (5pcs/box)
A breathable, bacteria-proof, and waterproof dressing
OPSITE Post-Op dressings provide a waterproof and bacteria-proof barrier for cuts, grazes, and stitches (low-risk incisions). Featuring an absorbent pad, this breathable dressing can stay in place for up to 7 days.
REACTIC technology breathable film allows excess moisture to transpire through the film 
Moisture evaporation 3-4 times faster than standard film dressings,1

 

helping to prevent skin damage
Barrier against bacteria, including MRSA2-4
Skin-friendly, hypoallergenic adhesive
Water-resistant, allowing you to continue showering
OPSITE Post-Op is ideal for: protecting low-risk incisions, cuts and grazes from external contamination for up to 7 days.
---
We Also Recommend