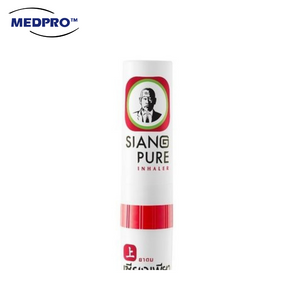 (12pcs) Siang Pure Inhaler 2cc
Siang Pure Inhaler helps to relieve nasal stuffiness and discomfort due to the cold and also to relieve dizziness and mild motion sickness.
Size: 2cc
Packaging: 12pcs/pack
Direction: Inhale or rub over/put a small drop on your hankerchief. You can also apply on the temples, just behind your ears to relieve minor migraines and dizziness. 
Ingredients: Menthol, Peppermint, Camphor. Borneol, Eucalyptus Oil, Mineral Oil
---
We Also Recommend