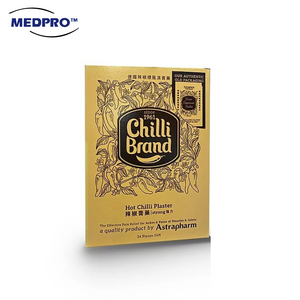 Astrapharm Chilli Brand Plaster Small / Large
Astrapharm Chilli Brand Plaster contains the active ingredient capsaicin (derived from chilli peppers), which helps to relieve pain by providing a warm sensation to the skin. It aids in pain relief for aches and pains of muscles and joints This promotes blood circulation, to help relieve sore muscles, strains and sprains, as well as arthritic pain.If needed, the plaster can be cut into smaller pieces and applied on the affected area.
Each piece contains Capsicum Extract and Zinc Oxide.

Size:
1) Small: 57.5mm x 45mm: 8pcs/bag. 20bags/box =160pcs in total
2) Large: 115mm x 167mm: 1pc/bag. 24bags/box = 24 pieces in total
---
We Also Recommend